Adrian Cockcroft, Cloud Architect at Netflix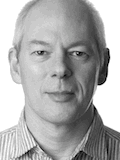 Over the last three years Adrian has managed and architected development of personalization algorithms for the Netflix web site and TV based devices, refactoring code into middle tier services, and development of a new personalization platform optimized for the cloud. He recently moved to the Cloud Systems group, with a focus on performance monitoring and analysis tools.
Adrian is probably best known as the author of several books while a Distinguished Engineer at Sun Microsystems: Sun Performance and Tuning; Resource Management; and Capacity Planning for Web Services. He was also a founding member of eBay Research Labs, where he contributed to the Skype Java API and built mobile application prototypes.
Books