Jon Mullen, British Sky Broadcasting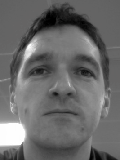 Since starting his career as an Ada developer, Jon has spent over 13 years in the IT industry (BAE Systems, Sema Group, Sun Microsystems and BSkyB) and has first hand experience of the "Good, Bad & Ugly" world of IT.
In his current role as a ScrumMaster at BSkyB, the three factors that he believes contribute most to his teams success are recruiting the right people (not resources), team ownership and the application of lean principles.
Outside of work Jon spends some of his time working on new ideas and exercises designed to aid retrospectives and other Scrum/XP practices.