Jesper Boeg, Trifork Software Pilot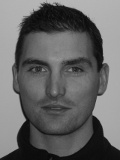 Jesper has worked as Agile Coach and Developer at Trifork for the past 4 years. He has a Masters degree from Aalborg University in the area of Information Systems and wrote his thesis on how to successfully manage distributed software teams.
With a relentless Lean focus Jesper helps teams adopt Agile practises and brake down the organisational and personal boundaries standing in the way. He believes that lack of communication is the root to all evil, and trust can only be established through an unrelenting focus on transparency in the entire organisation. Jesper's work is guided by high level Lean principles and believes that to achieve success one must look at the entire value stream and focus on the establishment of flow and a zero-defect mentality through continuous improvement.
Bringing "Agility back in Agile" have been keywords for Jesper's work lately. It is his experience that specific Agile Best Practices rule sets are enforced in many organisations, which is unhealthy in terms of continuous improvement and counter to the values of Agile. Ultimately restricting teams from using the resources at hand effectively and adapt to the context they are faced with.