David Harvey, Agile Coach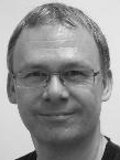 David Harvey has over twenty years experience in designing, building and managing the development of software. Now working as an agile coach and consultant in some of Europe's largest companies, from 2004 to 2008 he took on the role of CTO at Sibelius Software, developers of the world's leading music notation software. Previously he was technical Architect at UBS Investment Bank, and has worked throughout the City of London on advanced middleware libraries and architectures.
He has helped organisations make effective use of object technology, and has delivered introductory and advanced training courses in C++ and OO design. David is familiar to conference audiences throughout Europe from his sessions on C++, patterns, distributed computing, software architecture and software practice, jointly (with Paul Dyson) presented the UK's first workshop on Extreme Programming, and was conference chair for OT99 and SPA2009.