Robert D. Schneider, Think88 Ventures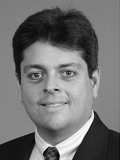 Robert D. Schneider is a Principal at Think88 Ventures, LLC. Based in Silicon Valley, and drawing from a deep pool of global talent and expertise in a wide variety of disciplines, Think88 provides independent, unbiased training and advisory consulting services in three major practice areas:
- Service Oriented Architecture (SOA)
- Software Development Lifecycle (SDLC)
- Technical marketing and positioning
Previous to Think88, Robert led all pre-sales, post-sales, training and support for Above All Software, a provider of composite application technology. Before Above All, he was the co-founder and Vice President of Professional Services for Optimize Solutions, Inc. Prior to Optimize, Robert led the Client Services organization as Director of Sales Engineering at Visigenic Software, as well as serving as a senior consultant at Informix Software.
He has provided service-orientation, database optimization, distributed computing, and other technical expertise to a wide variety of enterprises in the financial, technology, and government sectors. Clients have included Chase Manhattan Bank, VISA, HP, S.W.I.F.T., and the governments of the United States, Brazil, and Malaysia. Robert has written 6 books and numerous articles on SOA, SaaS, information integration, and database technology such as SQL Server and MySQL.