Namit Jain, Facebook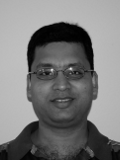 Namit Jain has been with the data-infrastructure group at Facebook for more than a year. He is one of the early engineers for Hive, and is one of the committers. He has presented Hive at a number of conferences, like Hadoop Summit 2009, VLDB 2009 etc.
Before that, Namit was at Oracle for over 10 years in the database and application server groups. He has worked on streaming technologies, XML, replication, queuing and related products in and outside the database.