Eishay Smith, Architect, Linked-In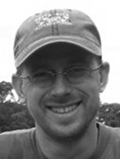 Eishay Smith, Principal Software Engineer, is part of LinkedIn's Content and Community team.
Eishay's main focus is on scalable backend services providing online and batch processes involving news related content. Previous to LinkedIn Eishay worked at IBM Haifa Research Labs and later as a project lead and architect in IBM Almaden Research Center, contributing as a committer to the Eclipse Open Healthcare Framework (OHF) project.