Robin Bater, IBM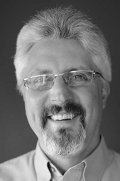 Robin Bater, has some 25+ years of experience with software development, and is the Requirements Definition & Management Community of Practice (CoP) Architect, for the IBM Rational Software Product Delivery Team and has the goal to:
Provide worldwide architectural leadership, technical enablement planning, structure and coordination of the Requirements Definition & Management CoP, specifically responsible for the following products: a. Rational Requirements Composer b. RequisitePro c. DOORS
- and how they support the Collaborative Application Lifecycle Management (C/ALM) strategy with regards to IBM Rational tooling based on Jazz technology.
Before joining IBM Rational Software, Robin worked on many military and space programs, including Boeing Joint Strike Fighter, Nato AWACS, Huygens Dedicated Control System, EURECA Mission Control System, as well as numerous other projects, after starting his career at the IBM UK Science Centre, in Winchester in 1982.